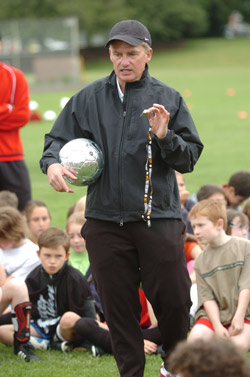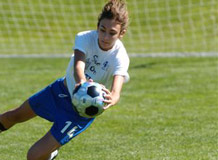 Holiday Camps at Seattle University

Winter Soccer Day Camps Choose from the 3-hour half day AM or PM camp or the FULL DAY camp. Full Day Camps will also have Soccer Tennis competition and other activities to help improve foot work. Both camps have a 1 Hour Stay & Play option. Kids ages 5 - 13 will learn and improve their skills and tactical awareness each day by staff demonstrations, practicing and playing. Each day ends with a World Cup game.

Camp Schedule
The day camp schedule includes two separate sessions, each approximately one hour and fifteen minutes in length. At the conclusion of the second session, two fifteen minute games are played, allowing the campers to utilize the skills learned during the day against competition.

Learn By Watching Staff Demonstrations
A key element of the camp philosophy is giving participants an opportunity to observe staff members demonstrating the skills to be taught in that session. The initial ten minutes of each session will include this important learning experience.

Learn By Practicing
The bulk of each session is occupied by skill development, allowing campers to participate under the direction of staff members. Fundamentals, as well as tactics, are emphasized through drills, games and individual instruction.

Learn By Playing
Campers are organized into teams and encouraged to apply their skills and tactics in a game situation supervised by staff members. This is the culmination of the "watch, practice, play" coaching method.

Camp Rate includes a T-shirt and soccer ball.

Space is limited for the Astrogym, so sign up now to reserve your spot.

Camps are open to any and all entrants.